A bended knee, a scattering of rose petals and one blinding white stone. This may have once been the vision of an ideal engagement, but Jeremy Chiang and his fiance, Bertin Huynh, decided they would do things a little differently. They both wanted the opportunity to propose to each other and to wear symbolic rings they had designed.
Chiang and Huynh settled on sapphires and rose gold – "we wanted something more subtle than yellow gold," says Chiang – and complementary but different designs. Huynh's ring is an "elaborate, molten design, he wanted the ring to look as if it grew out of the Earth," in line with his love for nature. It's set with a large Australian sapphire and a smaller, pale blue diamond. Chiang's, meanwhile, is simpler and smoother. It also has a sapphire and diamond, though smaller and set off-kilter.
For some couples, the question is not about the design of their rings, but whether to have engagement rings at all. The writer and advocate Bri Lee and her partner wanted to avoid the intertwining of love and material displays. "I'm a romantic – I love love – but the wedding-industrial complex is just such a beast," she says. "To me, important things like intimacy, commitment and adoration just don't need to go hand-in-hand with conspicuous consumption. I can only speak for western cultures, of course, where an engagement ring is often the beginning of a long demonstration, often involving purchases."
In the western world, it's now difficult to extricate the idea of an engagement from a ring – and specifically a diamond ring. But it's widely acknowledged that the tradition of the diamond as the engagement stone is a construct of relatively recent history. And pop culture has been a big player.
In 1939, at the end of Gone with the Wind, one of the highest grossing films of all time, Rhett Butler proposes to Scarlett O'Hara. "What kind of ring would you like, my darling?" he asks her. "Oh, a diamond ring. And do buy a great, big one, Rhett," she implores.
Fourteen years later, in Gentlemen Prefer Blondes, Marilyn Monroe assured viewers that "diamonds are a girl's best friend".
And somewhere in between those two defining filmic moments, British diamond juggernaut De Beers launched perhaps one of the most lucrative marketing campaigns in modern history. In 1947, copywriter Mary Frances Gerety inextricably tied diamonds to engagements with four simple words: "A diamond is forever." The implication being, of course, that your love, illuminated by the glimmering rock on your beloved's finger, was also forever.
In 2023, the world of engagement rings is a dramatically different one. Even a few decades ago, the idea of an engagement ring without a diamond set in a pavé or a platinum band would have been apocryphal. Today, it's reflective of a changing world.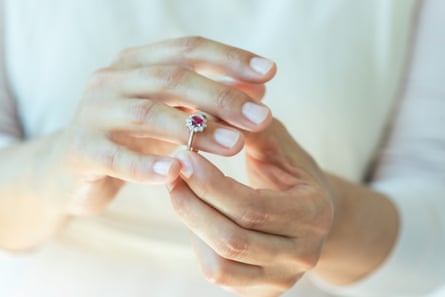 Gay marriage was legalised in 2017, leading to Australian jewellers seeing a growing appetite for men's rings. More recently, Covid propelled an already burgeoning appetite for smaller, more intimate weddings – and a different approach to marriage traditions more broadly. These forces, plus a glut of couples who want their jewellery to reflect their individuality, have led to a move beyond the classic engagement ring. Coloured stones, multiple bands and unusual settings: the ring is moving on.
The growing trend is reflected in the data. In December 2022, diamond-set precious metal jewellery was down 8% compared to December 2021, according to Retail Edge, which says it collated data "from POS software located in more than 400 independent jewellery stores" in Australia. Over the two-year period preceding December 2020, sales were down 16%. Comparatively, jewellery set with gemstones was unchanged between 2021 and 2022.
Sarah Gardner, who runs her eponymous jewellery brand out of a boutique in Paddington, Sydney, has seen the shift to coloured precious stones. Her label, which makes most of its pieces to order, has always worked with all kinds of stones, but has seen the number of couples requesting "unconventional" styles grow rapidly in the last five to 10 years.
"We're seeing that people generally don't just want one stone," she says. "They want a unique, contemporary take. They want colour. Or instead of having a classic white diamond, people are moving towards 'salt and pepper' diamonds, where each one is totally different."
The "salt and pepper" terminology refers to diamonds with natural flaws that make the stone appear mottled. Traditionally diamonds have been assessed on their clarity (as well as on the accompanying Cs: cut, colour and carat), which would make "salt and pepper" stones, by those metrics, historically less valuable. But today's buyers are less focused on that, according to Gardner, and more on the individuality of the piece. "Everyone wants something unique to them. Whether that's by incorporating a birthstone, or a family style," she says.
The Sydney-based jeweller and gem curator Nina Cueva focuses on creating alternative styles of rings that allow couples, heterosexual and queer, to express their identities even in the traditional realm of an engagement. "We're definitely moving away from just diamonds," she says. "People are wanting to know where their stones are from. Origin is becoming really important."
Cueva says couples come to her because they seek transparency – they want to understand the processes and makers involved in the creation of this thing they will wear on their hands for the rest of their lives.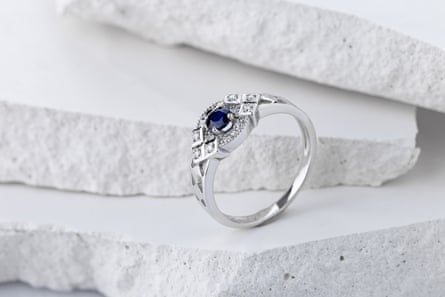 "People want to know how [the stones] are mined – we work with small, artisanal mines, so it's from their hands to my hands – and then I know more about the stone too.
"It's not just, you know, a beautiful, pretty thing. I've got provenance, and all that other information that goes with it."
Many of the stones she works with are, like those in Chiang and his fiance Huynh's rings, Australian sapphires. Sapphires are a long-wearing alternative to diamonds for their hardness, Cueva says, which makes them suitable for everyday wear.
Cueva noticed the trend towards unconventional stones pick up after Covid – but she noticed it building for around a decade before. "I've always kind of said to people, with these things, there's no rules any more."
Clients also come to Gardner and Cueva wanting to repurpose jewellery. They will bring in a piece with sentimental value, with the aim of reusing its stone in a newly designed ring. "So that's also becoming more of a trend, becoming a little bit more sustainable and a bit more personal. Instead of always buying something new all the time, we're repurposing and adding or embellishing," Gardner says.
It's a thread that runs through every conversation I have, whether with jewellers or jewellery-hunters: the desire for uniqueness, for a symbol that stands on its own. But while Chiang and his fiance's rings are "unconventional" in the aesthetic sense, the meaning behind them is as traditional as can be.
Chiang says each ring is a mark of their "commitment to one another – that we continue to support each other through every hardship and challenge that life may throw at us". Above all, he says, their rings "symbolise the union of two people who are very much in love with one another, as cliched as it sounds".
Related Posts