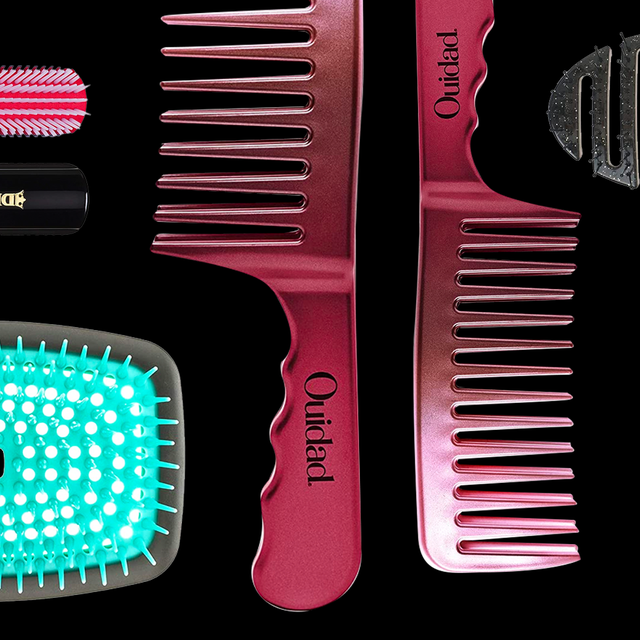 Khadija Horton
You already know that brushing your curly hair can be a delicate ~task~, whether you choose to detangle your 4c hair with gobs of deep conditioner in the shower, or to gently dry-brush your 3a curls before your wash-day routine. But you may not know that the curly hair brush you use actually matters and should be chosen based not only on your curl type, but on the health and texture of your hair. "If a brush feels like it's slipping through your hair and detangling it easily, that's the brush for you," says hairstylist and texture expert Jasmine "Jazzee" Green. So how do you find the best brushes for curly hair? That's where both Green and hairstylist Erinn Courtney come in.
Together, we compiled the best brushes for curly hair that won't create additional pulling, tension, or knots, as long as you're using them gently and correctly. But first, a quick peek at our top favorites:
Now keep reading to find your new go-to curl brush, along with how to properly detangle your hair type, when the best time to brush your curly hair is, and more.
Advertisement – Continue Reading Below
1
Best Curly Hair Brush Overall
Tangle Teezer Naturally Curly Detangling Brush
2
Best Curly Hair Brush for Styling
TGIN Style & Shine Boar Bristle Brush
3
Best Brush for Sensitive Scalps
Rizos Curls Pink Detangling Flexi Brush
4
Best Brush for Defining Curls
Denman Original Styler D3
5
Best Curly Hair Brush for Blow-Drying
Aimike Round Brush
6
Best Dry Detangling Brush for Curly Hair
LUS Detangle & Style Brush
7
Best Curly Hair Brush for Shower Detangling
Wet Brush Shower Detangler
8
Best Curl Brush for Scalp Massages
Virtue Flourish Manta Brush
9
Best Brush for Thick, Curly Hair
Curl Keeper The
…
Read the rest