Increases in the cost of living might not be clutching the clutches of Catherine, Princess of Wales and Australian actor Cate Blanchett, but could be seen in their strangely familiar selections for the red carpet at the 2023 British Academy Film Awards.
Apart from a flounce at the shoulder, Catherine's white Alexander McQueen gown, updated with black velvet opera gloves, appeared to be the same dress worn by the princess to the 2019 BAFTAs. In a nod to getting more flash for far less cash, diamonds were ditched in favour of a pair of £18 ($31.50) earrings from Zara.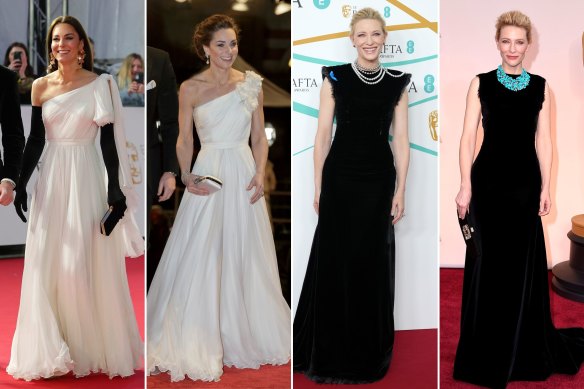 It's the latest example of recession-signalling, the fashion equivalent of virtue signalling, where stars show that they're aware of global issues without sacrificing a custom fit.
Rather than sending out stylist Elizabeth Stewart with a credit card, Blanchett also raided the archives, wearing an austere black haute couture gown by John Galliano for Maison Margiela that made its first appearance at the Oscars in 2015. Zara was a step too far for the Tár actor who chose jewellery from Louis Vuitton, a wise financial decision considering her role as an ambassador for the French luxury house.
Catherine's clothing choice carried extra meaning, offering support for British fashion on a night when most stars paid tribute to Italian and French design. Alexander McQueen is owned by French luxury conglomerate Kering, but Catherine celebrated the work of the brand's English creative director Sarah Burton in the timeless gown. Burton also designed Catherine's dress for her 2010 wedding to Prince William, president of BAFTA.
The gold Schiaparelli mini-dress and oversized cloak worn by The Menu's Anya Taylor-Joy, Bridgerton star Nicola Coughlan's white Valentino gown with an oversized rose print and the fitted pale blue ensemble of Matilda's Lashana Lynch were all borrowed from the haute couture runway of Paris, in a sartorial slap in the face sure felt by designers taking part in London Fashion Week, which finishes on Tuesday.
"The BAFTAs is a moment to celebrate the local creative industry and designers," says London-based Australian stylist Michelle Jank. "While many actors have affiliations with major brands which are not British, there should always be a great representation of UK designers on the night."
Related Posts