More often than not, the will to achieve one's dream and succeed is often stronger than whatever curveball life throws at us. This is reflected in the story of Charles Richard Aghedo, a burn survivor who runs a thriving fashion empire.
At age 27, Charles Richard Aghedo has dressed some Nigerian celebrities Kim Oprah and most recently, Mercy Aigbe.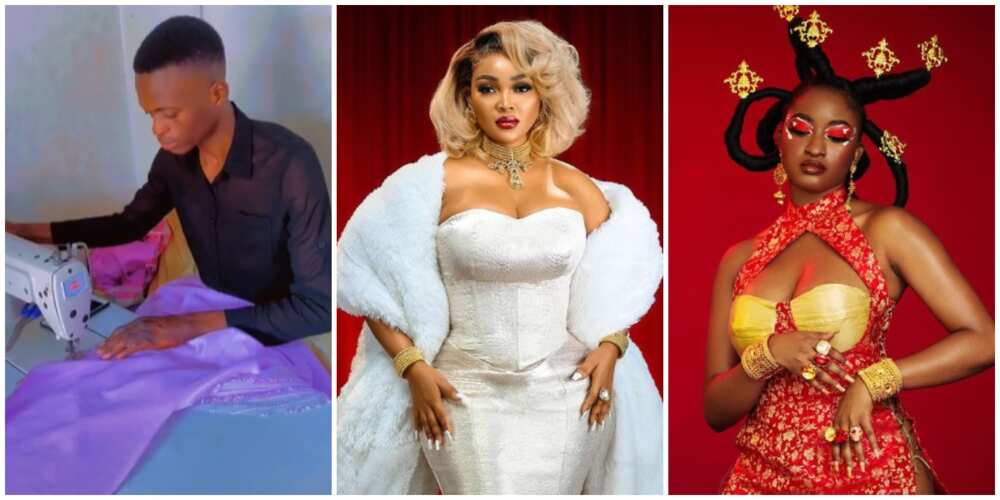 The Kogi State University graduate of Philosophy who runs the fashion brand, Kaalon Luxury, makes beautiful designs for both fashionable men and women and has a combined Instagram following of over 14,000.
In a chat with Legit.ng's Kumashe Yaakugh, the talented Abuja-based designer opened up about his love for designer and styling celebrities.
Growing up, Aghedo watched his father design dresses and soon grew a love for the art of dress-making when he was in primary school.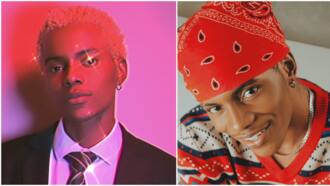 "I'm not into aggressive songs like Rema, old Banky W, others influence my music": Budding singer Quiries
Aghedo's passion for sewing and a scarring incident from childhood
"I would go to his shop after closing hours at school," he recounts.
Interestingly, his zeal for fashion designer grew despite an an encounter that left him permanently scarred.
"I got accidentally scalded with hot water on my hands when I was one year and 6 months. Back then, there was no funds to provide me with adequate treatment so I had some of the tissues on the right hand joined together and I grew up that way."
But despite growing up with scarred hands, it did not stop Aghedo from chasing his dreams of becoming a top fashion designer.
So, he put in the work required in building his brand. However, it came at a price as in 2018, he experienced some challenges as a result of the hot water incident from his childhood.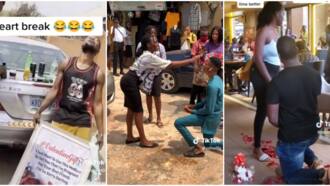 "You No Fine": 3 Trending Videos of Unlucky People Who Got 'Served Breakfast' on Valentine's Day of 2023
"I had this burn reaction. I just started feeling pains on my right tomb and it started swelling up. I actually thought it was a dislocation until we went for an X-ray and the doctor said it was as a result of the scar. The doctor said I put too much pressure on the tomb. That's where I place in the scissors when I'm cutting. So I was advised to give it rest time to time."
Aghedo recounts that he was unable to sew for a while and described it as 'the worst experience I've had in my entire life.'
Working with Mercy Aigbe
In January, Nollywood star, Mercy Aigbe celebrated her birthday, releasing some photos of her rocking a gorgeous vintage blonde look.
Aghedo's fashion house was behind one of her dresses which featured a furry wrap-around.
Speaking about the experience, the designer who has worked with other stars like Kim Oprah and Papaya Ex, had this to say: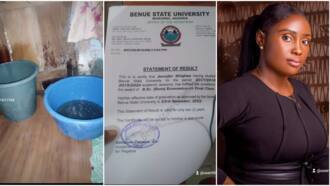 "I had only one gown in school": Nigerian lady who slept in leaking room with 2 buckets bags first class
"Working on Mercy's dress was a dream come through for me because I've been seeing her on the screen for many years. To imagine her wearing my handwork was such an amazing feeling for me."
A few weeks ago, one of Aghedo's TikTok videos went viral in which he showed his scars and some beautiful designs he has created in spite of it.
On what he loves about fashion designing, he says:
"I enjoy seeing people looking beautiful. Especially when I know this was made by me it's such a beautiful fulfillment."
"The best choice I ever made": Lady who has been a female cobbler for 6 years opens up
Anastasia Uzodimma is a 30-year-old undergraduate making a living through shoemaking. In this article, she opens up about her craft and some of the challenges she faces.
With growing social media visibility, the female cobbler has proven to be consistent, showing a passionate tenacity for the craft that brings her joy.
Recall earlier on, one of her viral TikTok videos which saw her working on some shoes earned her compliments from many social media users.
Source: Legit.ng
Related Posts